Edulis: 'Canada's Best New Restaurant 2012'
An interview with chefs Michael Caballo and Tobey Nemeth about what went into establishing 'Canada's Best New Restaurant 2012' - Edulis in Toronto.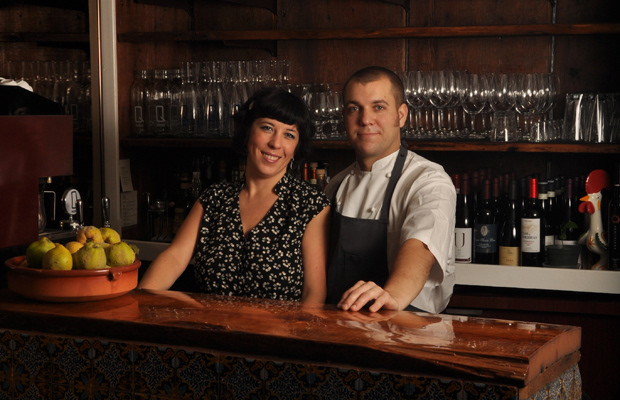 PHOTO: Christopher Lewis/for Postmedia News; Tobey Nemeth, left, and Michael Caballo are pictured in their restaurant Edulis in Toronto
Laura Brehaut/Postmedia News
Originally published on November 8, 2012;
canada.com
Dishes change as Caballo is inspired by the daily offerings of local farmers and suppliers, with the menu changing gradually throughout any given week. There is also a carte blanche dinner menu option – "Put your belly in our hands (we promise to be nice)…" – and a European set lunch menu on Sundays.
Current menu items such as Black and White Boudin Chanterelles, Smoked Apple Jus, and Roasted Duck Breast with Peeled Tomatoes, Wild Dandelion, Lobster Mushrooms and Duck Skin Crumbs evidence the pair's love of wild and foraged foods, particularly mushrooms. The restaurant's name is Latin for edible as well as the name of their favourite wild mushroom – the Boletus edulis – the porcini or cep. "And to us it's evocative of the old-fashioned or tradition. All those beautiful things," Nemeth explains.
Caballo had served as executive chef at Niagara Street Café from 2005 to 2008, and both he and Nemeth immediately recognized the space as being perfect for their endeavour. "We always saw it as that perfect proportion, the fact that it's on a side street. There's an intimacy and tranquility to the place that we loved," Nemeth says. "We always held the image of it as an idea of a place that we loved but without ever imagining that it might become available. So it was a magical moment when we found out that was happening." Caballo adds that the timing was right, saying, "Just in the last year we started thinking about [moving back to Toronto] again – about how great the bounty of produce is and the connection to suppliers, and how special it is here. A light went off and it felt right. Right timing, right place, and we needed to do it."
The four years the pair spent travelling and working internationally has had a major impact on their approach with Edulis. "Travel and reading are the two most important things for people to do in this business. If you were to tell young cooks to do two things it would be to travel and eat, and read," Caballo says. "Just seeing how they grow a certain vegetable in the countryside in Italy or something you don't have [here], just that relation with the earth that you see, maybe not here as much as you do when you're really immersed in something [abroad]. It affects how you look at everything."
"It was a short experience – just a couple of months – but it was extremely influential in my mindset as a cook and it's a really wonderful place. It's like a temple," Caballo says. "And I had come off working at a place in Madrid, which kind of did the opposite to me. It was a great place to get food but it was a very harsh environment." Working at Mugaritz renewed his inspiration and offered new insight into what cuisine at that level could be. "I was really, really touched by the picking of the herbs wildly and that set me off on a path of acquiring knowledge, especially with mushrooms, but with leafy things as well," he says. "It was great. It's a great place. Like I said, it was very short but it changed the way I look at a kitchen and food. And how I comport myself in a kitchen as well."
The model of Caballo in the kitchen and Nemeth, also a chef, managing the business and front of the house is one that they had tested in Panama. "We were running a hotel and restaurant there, and we were in these roles. I was the general manager and Michael was the executive chef. And we loved it," Nemeth says. "We worked together really well that way and I think there's an ideal in that, that I can jump in and help in the kitchen and that we both know on both sides that someone has our back."
The hands-on nature of running a small, 32-seat restaurant is ideal for Caballo and Nemeth. They have a small staff – two in the kitchen and three in the dining room – that Nemeth refers to as being like family, "I worked with [our dining room staff] for years when I was chef at Jamie Kennedy Wine Bar and one of them worked here for Anton [Potvin] for many years. It's just a return to somewhere very comfortable for all of us, which is really nice."