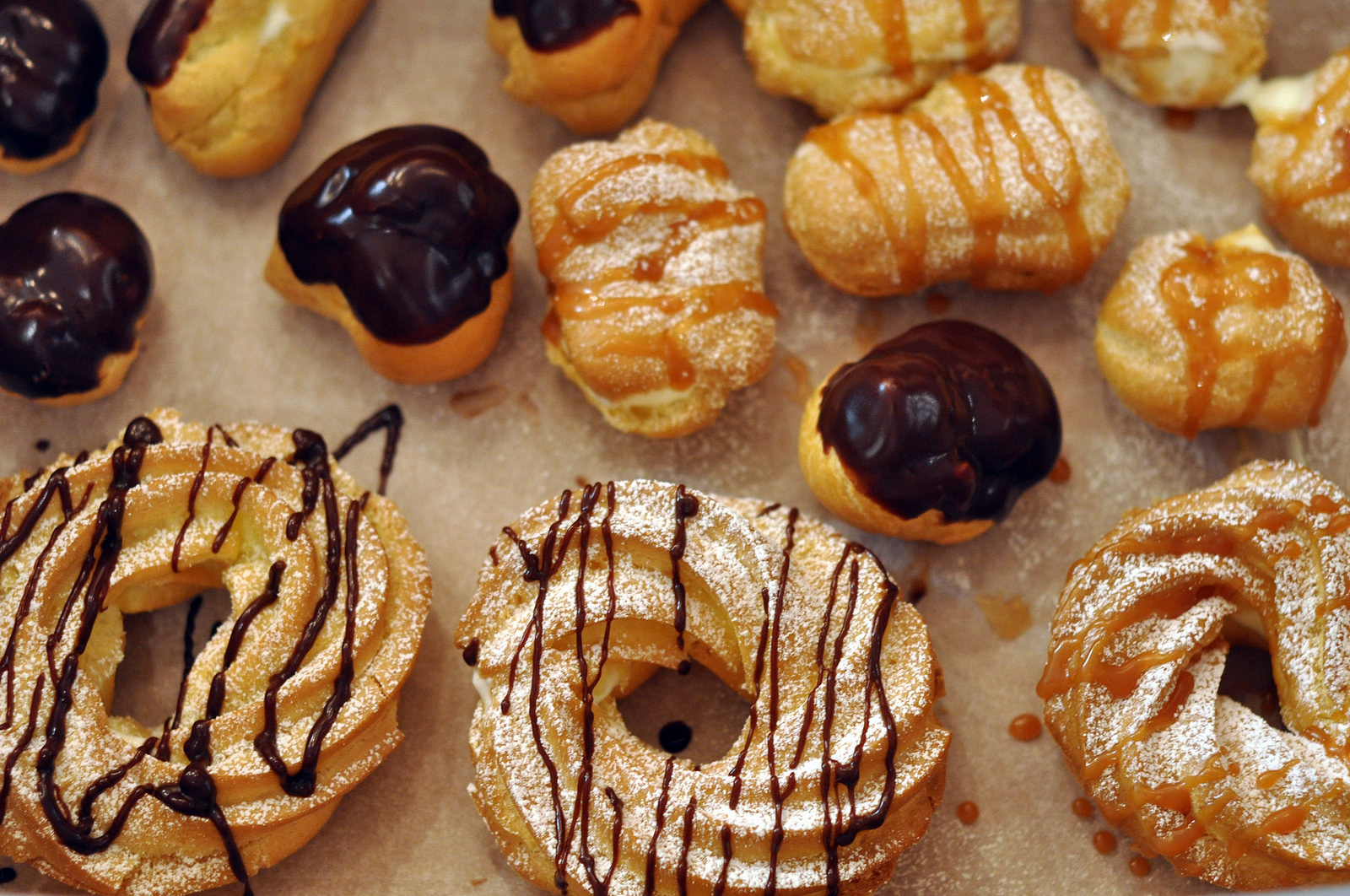 PHOTO: Laura Brehaut/Postmedia News; French crullers and profiteroles made during a choux pastry class.
Laura Brehaut/Postmedia News
Originally published on August 19, 2013;
canada.com
There's much to drool at when it comes to French pâtisserie. From ganache-glazed, custard-filled éclairs to cream-filled profiteroles (cream puffs), to savoury gougères (cheese puffs), to the towering caramel-drizzled croquembouche, these boutique pastries are easier to achieve at home than you might expect.
The base of all these treats is choux pastry, or pâte à choux, which is a type of puff pastry that uses a very simple technique. In fact, you can make it at home without the aid of a stand or hand mixer. Whereas puff pastry relies on layers of dough with air pockets between them, choux dough is made from butter, water, flour and eggs, and doesn't require lamination or layering. Rather, the high moisture content of choux dough puffs the pastry when converted to steam in the oven.
The result is a hollow, light and airy pastry just waiting to be piped full of pastry cream (crème pâtissière), whipped cream, crème légère (pastry cream "lightened" with whipped cream), or goat cheese. I attended a choux pastry class at "foodie studio"
Le Dolci
in Toronto, where head pastry chef and Le Cordon Bleu pastry graduate Beatriz Costa led me through the process of making profiteroles, éclairs, Paris-Brest (a choux ring sprinkled with almonds and typically filled with hazelnut cream), and choux swans (recipes below).
In order to make choux pastry well, as with all baking, Costa emphasizes the importance of following the recipe. "A lot of people like to improvise, which is a bit tricky in baking because it's a science. You have to have a good recipe and follow it," she says.
Choux dough can be made using either a stand or hand mixer. However, as mentioned above, you can easily mix the dough by hand using a wooden spoon. In fact, mixing by hand will give you a better idea of the consistency you're aiming for. As Costa points out, it's all too easy to over-beat the dough using a mixer.
Costa notes that another common error is cooling the dough either too much or not enough before adding the eggs. You should spread the dough along the sides of the mixing bowl, and let it cool before incorporating the eggs. If the dough is too hot, the eggs will cook. If too cool, the eggs won't incorporate properly. You'll need to touch the dough to make sure it's the desired temperature, which is lukewarm, not hot.
A third common error to watch out for relates to baking the choux. If your oven isn't at the correct temperature, the pastry may not puff and dry out properly. The air pocket you're aiming to achieve relies on first baking at a higher temperature, then decreasing the heat before removing the pastry from the oven. Opening the oven door before necessary may cause the choux to collapse and lose the structure necessary to hold the filling.
As a newcomer to choux pastry, I found the process a lot less daunting that I had originally imagined. Now, I'll definitely need a lot more practice before getting anywhere close to the elaborate and flawless éclairs on offer in pâtisseries, but the pastries I made during the class were shared and appreciated (no noses were turned up at malformed choux swans). I don't have a stand mixer at home, and really appreciated the fact that it's entirely possible to whip up a batch of choux using little more than a stove-top, mixing bowl and wooden spoon. The versatility of choux pastry also really appeals to me: ganache, fondant, fruit, salted caramel, Gorgonzola, chèvre… choux makes for a fantastic springboard.
The recipe below doesn't include sugar, and will work for both sweet and savoury choux pastries. Costa's favourite savoury uses are profiteroles filled with cream cheese and topped with salmon, or filled with goat cheese paste and topped with fresh figs and chives, which make easy and impressive amuse-bouches. She also loves the sweet Paris-Brest, saying, "I love using hazelnut paste. It's my favourite to eat and it looks gorgeous."
Lisa Sanguedolce, owner of Le Dolci, says that what she loves most about pastry is the fact that you're turning basic ingredients into something special to share with people you care about. "I always say the best thing you could ever do is make a cake, or what you made with choux pastry, and bring it to someone's house for dinner. You'll get so many oohs and aahs," she says. "It's something that's super easy but it [comes from] passion and baker's love. I'd rather get a pie from someone than anything else… although a bottle of wine is not bad," she adds with a laugh.
Le Dolci does custom baking, and offers classes such as Parisian macarons, croissants, cookie and cupcake decorating, and choux, of course, as well as food-focused trips to Paris, San Francisco and northern Italy.
Recipes courtesy of Le Dolci.
BASIC CHOUX PASTRY
1 cup water
1 stick of butter (1/2 cup)
1 cup all-purpose flour
1 pinch of salt
1 cup eggs (4 large eggs)
1. Preheat oven to 400 degrees F (200 degrees C) and place rack in center of oven. Line a baking sheet with parchment paper or lightly butter or spray the pan with a non-stick vegetable spray.
2. In a bowl sift or whisk together the flour and salt.
3. Place the butter and water in a heavy saucepan over medium high heat and bring to a boil. (Make sure that the butter melts before the water boils to reduce the amount of evaporation.) Remove from heat and, with a wooden spoon, add the flour mixture, all at once, and stir until combined.
4. Return saucepan to the heat and stir constantly until the dough comes away from the sides of the pan and forms a thick smooth ball (about 1-2 minutes).
5. Transfer the dough to your electric mixer, or use a hand mixer, and beat on low speed to release the steam from the dough (about a minute).
6. Once the dough is lukewarm start adding the lightly beaten eggs (dough will separate and then come together) and continue to mix until you have a smooth thick paste (dough will fall from a spoon in a thick ribbon).
7. Pipe the choux onto the baking sheet, spacing about 2 inches (5 cm) apart. With a pastry brush, gently brush the tops of the choux with a lightly beaten egg.
8. Bake for 15 minutes and then reduce the oven temperature to 350 degrees F (180 degrees C). Continue to bake for a further 30 to 35 minutes or until the shells are a nice amber color and when split, are almost dry inside.
makes two dozen choux petit fours
PASTRY CREAM
1 cup of milk
2 tbsp of white sugar, plus 2 tbsp white sugar (divided)
1 egg
2 tbsp cornstarch
1 tsp vanilla extract
1 cup of heavy whipping cream + 2 tbsp white sugar (for whipped cream)
1. To make whipped cream: Pour cream into the bowl of a stand mixer (or a metal bowl); add sugar. Whip until firm peaks form (about 7-8 minutes). Store in the refrigerator until ready to use. 
2. In a heavy saucepan, stir together milk, vanilla, and 2 tablespoons of sugar. Bring to a rolling boil over medium heat. While the milk is coming to a boil, whisk together egg, 2 tablespoons of sugar, and cornstarch. Mix until smooth. Add a tablespoon of hot milk to this mixture and stir constantly. This is done to temper the eggs, so you don't end up with a scramble egg mixture.
3. When the milk comes to a boil, remove from heat, and slowly pour the egg mixture into the saucepan, making sure you have a thin stream and you are constantly stirring so you do not cook the eggs. Return the saucepan back to heat and slowly bring to a boil, stirring constantly so the eggs don't curdle. When the mixture comes to a boil and thickens, remove from the heat and pour into a heat-proof container and place a piece of plastic wrap directly on the surface to prevent a skin from forming. Fold into whipped cream. Refrigerate until chilled before use.
CREAM PUFFS
1. Line sheet pans with parchment paper.
2. Fit a large pastry bag with a plain tube. Fill the bag with the choux paste.
3. Pipe out round mounds of dough about 1 ½ inches in diameter onto a lined baking sheet.
4. Bake at 425 degrees F for 10 minutes. Lower the heat to 375 degrees F and continue baking until the mounds are well browned and crispy. Remove them from the oven and let cool slowly in a warm place.
5. When cool, cut a slice from the top of each puff and fill with a pastry cream/whipped cream mixture. Replace the tops and dust with confectioners' sugar. Cream puff must be kept refrigerated. Unfilled and uncut puffs, if thoroughly try, may be held in a plastic bags in refrigerator for 1 week. Re-crisp in the oven for a few minutes before use.
ÉCLAIRS
1. Proceed as for cream puffs, except pipe the dough out into strips about ¾ inches wide and 3 inches long. Bake as for cream puffs.
2. Fill baked, cooled éclair shells with pastry cream.
3. Dip the top of the éclair in chocolate ganache*.
*To make ganache, you'll need one part cream to one part semi-sweet chocolate (e.g. 8 oz cream to 8 oz semi-sweet chocolate). Chop the chocolate finely and place in a stainless steel bowl. Heat the cream in a saucepan until it just reaches a boil. Remove the cream from heat and pour it over chocolate. Let the mixture rest for approximately five minutes, and then stir slowly with a whisk, going in a clockwise motion until the mixture has emulsified and has a shiny appearance.
PARIS-BREST
1. Proceed as for cream puffs, except pipe the dough into a ring shape. Brush with egg wash, top with almonds. Bake as for cream puffs.
2. Fill with pastry cream and dust with icing sugar.
CHOUX SWANS
1. Proceed as for cream puffs, expect pipe the dough out into larger mounds—about 3 inches wide and 3 inches long. Bake as for cream puffs.
2. Make swan necks by piping out a "2" shape. Bake slightly less than puffs; remove from oven when golden brown.
3. Once cooled, cut the puffs into two, horizontally. Sever the top half again, length wise. Fill the bottom, and place the two tops as "wings". Carefully top with the swan neck.