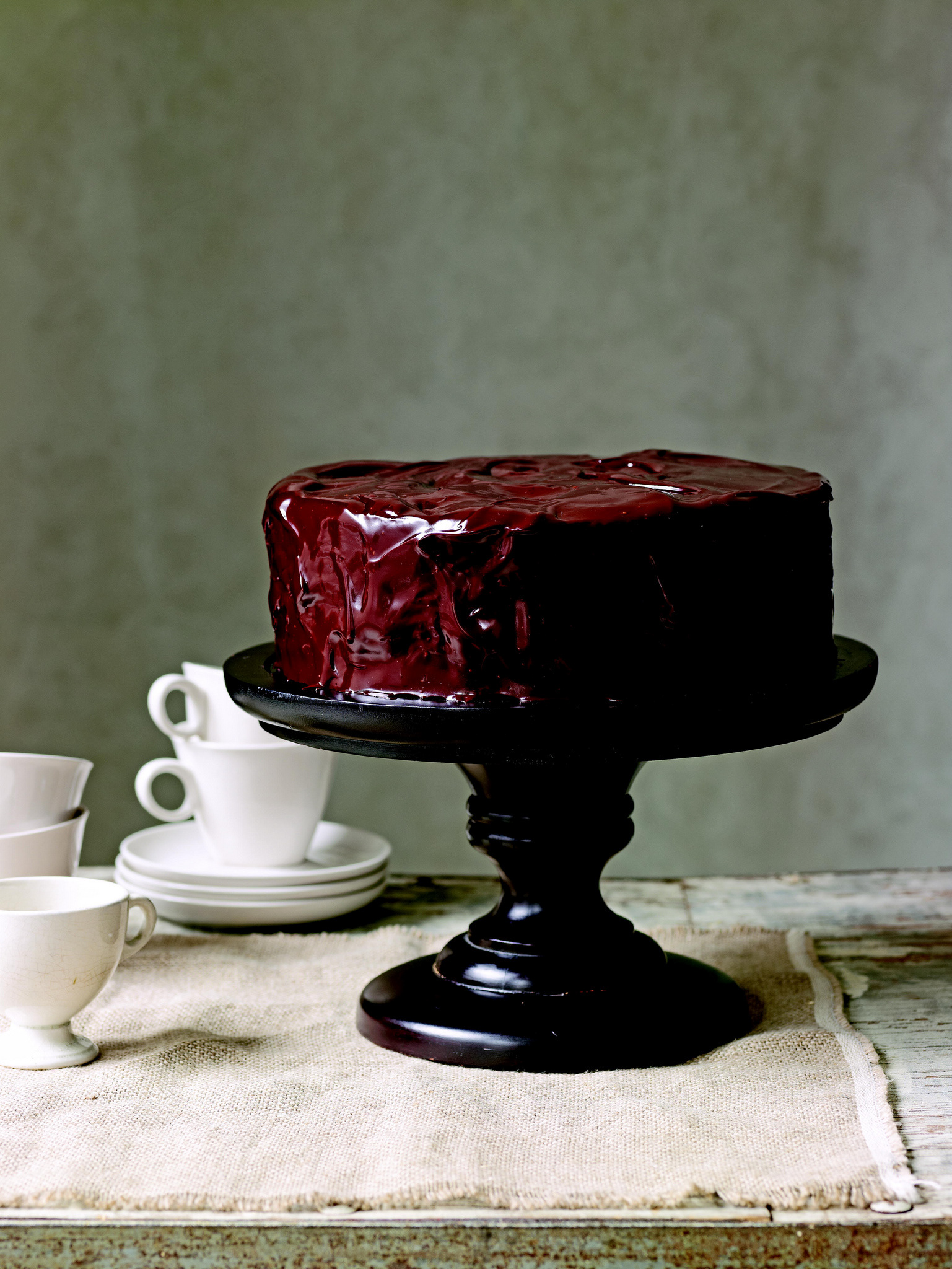 PHOTO: Random House; Double Chocolate Layer Cake from The Epicurious Cookbook by Tanya Steel and the editors of Epicurious.com
Laura Brehaut/Postmedia News
Originally published on February 8, 2013;
canada.com
PUBLISHED IN PRINT:
Montreal Gazette: March 20, 2013; page B4
The StarPhoenix (Saskatoon): March 16, 2013; page E11
On the food website
Epicurious
, a recipe for a
Double Chocolate Layer Cake
wears a blue ribbon. The ribbon signifies that the coffee-scented, ganache-frosted cake is one of the top-ranked Epicurious recipes of all time. With 1,525 member reviews at last count, that's no small feat. The Epicurious recipe collection consists of approximately 200,000 member recipes and more than 30,000 professionally created recipes from magazines such as Gourmet and Bon Appétit, and chefs such as
Dorie Greenspan
and
Thomas Keller
.
Epicurious editor-in-chief Tanya Steel and her team of food editors took on the formidable task of reviewing these recipes and selecting the more than 250 "best-loved four-fork recipes" included in
The Epicurious Cookbook
(Random House, 2012) – the first cookbook for the digital brand. Steel says when culling the recipes, a modern and seasonal viewpoint was important in the recipes they chose for the book.
"We have recipes dating back from the '40s on our website, which is so cool," Steel says. "We have recipes from Gourmet from 1946, and House & Garden, but what we wanted to do is choose recipes that really reflected how we eat and cook today." In Steel's opinion, we're eating healthier than ever before and are more sophisticated in the recipes we choose. Gone are the days of the-more-ingredients-the-better mentality, today's home cooks look for recipes that don't call for too many ingredients. Steel points out that sometimes the best recipes are the simplest, giving the example of "tomato, basil, olive oil, you're done."
Another key factor in recipe selection was the Epicurious algorithm that determines which recipes get four forks – the maximum member rating on the site. According to Steel, four-fork recipes have two things in common: "They have to be, first and foremost, delicious, and they have to be eminently doable by all strata of cooks." And then there were recipes, like the Double Chocolate Layer Cake, that they knew they just had to include.
"When I read [the reviews] I think this is why I love what I do because it's all about being a community and people talking about the personal connections they have with specific dishes," Steel says. "[The Double Chocolate Layer Cake] in particular has reviews like 'I made this for my kid's first birthday and my anniversary.' Very sweet stories are connected to some of these foods so those were some of the recipes that we chose as well, all of which are highly rated."
The recipes in the cookbook are presented according to season with the more than 60 home cook recipes bearing a "member recipe" label. All of the recipes were tested and re-tested, and Steel notes that the member recipes were put to the same laboratory testing and editing processes as the professional recipes. "I think what makes our recipes so successful is that they have been tested so many times," Steel says. "And they've been tested by the community, and the community is adding their knowledge to it. And also the way that they're written – they're written very sequentially, stating all of the obvious factors."
One of Steel's passions is teaching children about healthy eating and how to cook. She explored the topic in her first cookbook, which she co-wrote with Tracey Seaman,
Real Food for Healthy Kids
(Cookbooks, 2008). First Lady Michelle Obama's office became aware of the book and Steel's involvement in Epicurious, and contacted her to help promote
Let's Move
, the First Lady's campaign to end childhood obesity in the United States. As part of the campaign, Steel and a colleague conceived a healthy lunch recipe contest for kids, with the prize being the first-ever
Kids' State Dinner
at the White House.
They received 1,200-1,300 submissions from as far away as India, which they pared down to two entries from each state and the four territories. After tasting 108 dishes in several hours, Steel and her colleagues chose the 54 winners and invited them to Washington for the dinner on August 20, 2012. "The kids were announced like they are at State Dinners. So it was literally like, 'Jacob, 9, Ohio,' and Jacob and his mom would walk through. There was a press pool and everybody was taking pictures. It was so cute," Steel says with a laugh. Not only did the winners meet the First Lady, but President Barack Obama crashed the party and shook everyone's hand.
There are many recipes in The Epicurious Cookbook that Steel recommends for cooking with children. In particular, she feels that baking is a great thing to do with little children as they can pour, stir, measure and use the spatula. She recommends recipes such as Banana Bread with Chocolate Chips and Walnuts (a member recipe) as well as breakfast recipes like French toast, pancakes and burritos. "The more you can actually get them involved in the process the better off you are, as long as you have a little bit of humour and patience," Steel says. "It's not going to be perfect and it might not taste exactly the way you want it, but the point is to get in there with your kid and really have fun. Make it a memory."