PHOTO: HarperCollins Publishers; Sticky Toffee Pudding from Ricardo: Slow Cooker Favourites.
Laura Brehaut/Postmedia News
Originally published on November 12, 2013;
canada.com
PUBLISHED IN PRINT:
Ottawa Citizen: November 28, 2013; page D4
The Windsor Star: November 20, 2013; page C4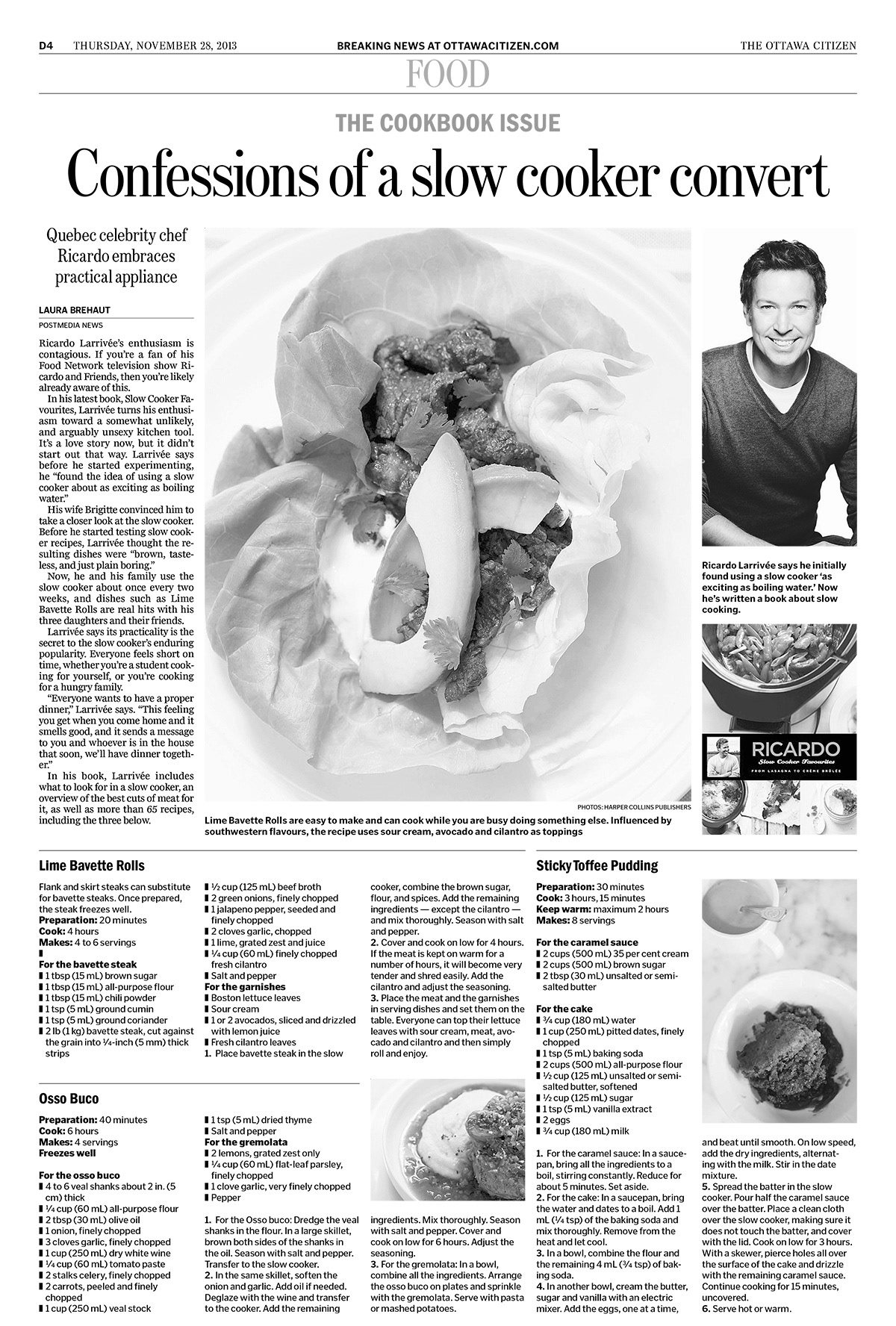 Ricardo Larrivée's
enthusiasm is contagious. If you're a fan of his Food Network television show Ricardo and Friends, or live in Quebec where he's a household name, then you're likely already aware of this. In his latest book,
Slow Cooker Favourites
(HarperCollins Publishers, 2013), Ricardo turns his attention and enthusiasm towards a somewhat unlikely, and arguably unsexy kitchen tool. It's a love story now but it definitely didn't start out that way. He's very open about the fact that before he started experimenting, he "found the idea of using a slow cooker about as exciting as boiling water."
It was Ricardo's wife Brigitte who convinced him to take a closer look at the slow cooker. Before he started researching and testing slow cooker recipes, he thought the resulting dishes consisted only of the "brown, tasteless, and just plain boring." Let's just say he's a convert. He and his family now use the slow cooker at least once every other week, and dishes such as Salsa Verde Pork Tacos and Lime Bavette Rolls (recipe below) are real hits with his three daughters and their friends.
Although Ricardo highlights several advantages of the slow cooker in his book – practical, economical, healthy and ecological (it uses the same amount of energy as a 100-watt light bulb) – it's really the practicality aspect that he sees as the secret to the slow cooker's enduring popularity. Everyone feels short on time, whether you're a student cooking for yourself for the first time, or you're cooking for a hungry family. "Everyone wants to have a proper dinner," Ricardo says. "This feeling you get when you come home and it smells good, and it sends a message to you and whoever is in the house that soon, we'll have dinner together."
He gives the example of his recipe for Steamed Salmon with Fennel, which calls for just four ingredients and takes one hour and fifteen minutes of cooking time. He or his wife prepares the ingredients in the morning, and keeps the filled cooker in the fridge. They have a rule that whoever gets home first starts the slow cooker and sets the timer. "Even my youngest [10] or my eldest [15], they have this sense of 'Oh, finally, I prepared dinner,'" Ricardo says. "They're happy because they've done something and it actually makes it very simple to have a family dinner. That's the most important thing, to eat together."
Ricardo includes what to look for if you're in the market for a slow cooker, an overview of the best cuts of meat for it, as well as everyday recipes (Lasagna – a hit with his family – and Pork Satay), sunny day recipes (Barbecued Pulled Pork, Ribs), no-fuss recipes for entertaining (Veal Cheeks with Figs, Orange and Honey Turkey Breast), recipes for sugar shack fans (Baked Beans, Poor Man's Maple Pudding Cake), vegetarian recipes (Lentil Stew with Poached Eggs, Dahl Soup), and desserts (Chocolate Pudding Cake, Sticky Toffee Pudding – recipe below).
Desserts that are typically cooked using moist heat (i.e. steaming, poaching, simmering, stewing or boiling) work particularly well in a slow cooker. Crème Caramel, Cheesecake and a variety of pudding cakes are included, as well as Brownies. "Sticky Toffee Pudding, Lemon Pudding Cake, Chocolate Pudding Cake – we love these and on top of that, it's kind of our heritage," Ricardo says. "All these pudding things, it's really Canadian I think. We're pudding people. Whether it's lemon or chocolate or, in Quebec, the
pouding chômeur
[Poor Man's Maple Pudding Cake]. It's comfy."
Associating slow cookers with six o'clock solutions may be a given but what about slow cooker meals for entertaining? Ricardo recommends identifying where the stress lies when planning a meal for guests, and using the slow cooker for that. "Is it dessert? Is it main course? What is it? Well, take care of that part with the slow cooker so you can forget about it. The main dish – if you want to do a nice Beef Stroganoff, it's there. It's simmering – you can be an hour late [serving dinner] if you want."
Ricardo swears that no one will be able to tell – and suggests that you wait for the praise to roll in before you let your guests in on the secret. He likes to use an oval-shaped slow cooker for practicality (try fitting a whole chicken in a round cooker), so he cuts small squares of brownie out of the oval and serves them to guests in espresso cups with a bit of espresso or strong coffee, and a small scoop of vanilla ice cream. "It's beautiful. It took you no time to prepare and everyone is going to talk about it," he says. "Just let them go, and then you say, 'Oh, great. I did it with my slow cooker' and watch their faces; it's worth $100. It's fun, and most of the time they say, 'Really?' and they want to do the same thing!"
LIME BAVETTE ROLLS
for bavette steak:
15 mL (1 tbsp) brown sugar
15 mL (1 tbsp) all-purpose flour
15 mL (1 tbsp) chili powder
5 mL (1 tsp) ground cumin
5 mL (1 tsp) ground coriander
1 kg (2 lb) bavette steak, cut against the grain into 5 mm (1/4-inch) thick strips
125 mL (1/2 cup) beef broth
2 green onions, finely chopped
1 jalapeño pepper, seeded and finely chopped
2 cloves garlic, chopped
1 lime, grated zest and juice
60 mL (1/4 cup) finely chopped fresh cilantro
salt and pepper
for garnish:
Boston lettuce leaves
sour cream
1 or 2 avocados, sliced and drizzled with lemon juice
fresh cilantro leaves
1. Bavette steak: In the slow cooker, combine the brown sugar, flour, and spices. Add the remaining ingredients, except for the cilantro, and mix thoroughly. Season with salt and pepper.
2. Cover and cook on low for 4 hours. If the meat is kept on warm for a number of hours, it will become very tender and shred easily. Add the cilantro and adjust the seasoning.
3. Garnish: Place the meat and the garnishes in serving dishes and set them on the table. Everyone can top their lettuce leaves with sour cream, meat, avocado, and cilantro and then simply roll and enjoy.
serves 4-6
OSSO BUCO
for osso buco:
4 to 6 veal shanks about 5 cm (2 inches) thick
60 mL (1/4 cup) all-purpose flour
30 mL (2 tbsp) olive oil
1 onion, finely chopped
3 cloves garlic, finely chopped
250 mL (1 cup) dry white wine
60 mL (1/4 cup) tomato paste
2 stalks celery, finely chopped
2 carrots, peeled and finely chopped
250 mL (1 cup) veal stock
5 mL (1 tsp) dried thyme
salt and pepper
for gremolata:
2 lemons, grated zest only
60 mL (1/4 cup) finely chopped flat-leaf parsley
1 clove garlic, very finely chopped
pepper
1. Osso buco: Dredge the veal shanks in the flour.
2. In a large skillet, brown both sides of the shanks in the oil. Season with salt and pepper. Transfer to the slow cooker.
3. In the same skillet, soften the onion and garlic. Add oil if needed. Deglaze with the wine and transfer to the cooker. Add the remaining ingredients. Mix thoroughly. Season with salt and pepper.
4. Cover and cook on low for 6 hours. Adjust the seasoning.
5. Gremolata: In a bowl, combine all the ingredients. Arrange the osso buco on plates and sprinkle with the gremolata. Serve with pasta or mashed potatoes.
serves 4
STICKY TOFFEE PUDDING
for caramel sauce:
500 mL (2 cups) 35 per cent cream
500 mL (2 cups) brown sugar
30 mL (2 tbsp) unsalted or semi-salted butter
for cake:
180 mL (3/4 cup) water
250 mL (1 cup) pitted dates, finely chopped
5 mL (1 tsp) baking soda
500 mL (2 cups) all-purpose flour
125 mL (1/2 cup) unsalted or semi-salted butter, softened
125 mL (1/2 cup) sugar
5 mL (1 tsp) vanilla extract
2 eggs
180 mL (3/4 cup) milk
1. Caramel sauce: In a saucepan, bring all the ingredients to a boil, stirring constantly. Reduce for about 5 minutes. Set aside.
2. Cake: In a saucepan, bring the water and dates to a boil. Add 1 mL (1/4 tsp) of the baking soda and mix thoroughly. Remove from the heat and let cool.
3. In a bowl, combine the flour and the remaining 4 mL (3/4 tsp) of baking soda.
4. In another bowl, cream the butter, sugar, and vanilla with an electric mixer. Add the eggs, one at a time, and beat until smooth. On low speed, add the dry ingredients, alternating with the milk. Stir in the date mixture.
5. Spread the batter in the slow cooker. Pour half the caramel sauce over the batter. Place a clean cloth over the slow cooker, making sure it does not touch the batter, and cover with the lid. Cook on low for 3 hours. With a skewer, pierce holes all over the surface of the cake and drizzle with the remaining caramel sauce. Continue cooking for 15 minutes, uncovered. Serve hot or warm.
serves 8