PHOTO: Hugh Forte/Ten Speed Press; Ranchero Breakfast Tostadas from The Sprouted Kitchen: A Tastier Take on Whole Foods by Sara Forte
Laura Brehaut/Postmedia News
Originally published on October 16, 2012;
canada.com
PUBLISHED IN PRINT:
Ottawa Citizen: November 22, 2012; page D4
Montreal Gazette: October 24, 2012; page B2
The Windsor Star: October 24, 2012; page C4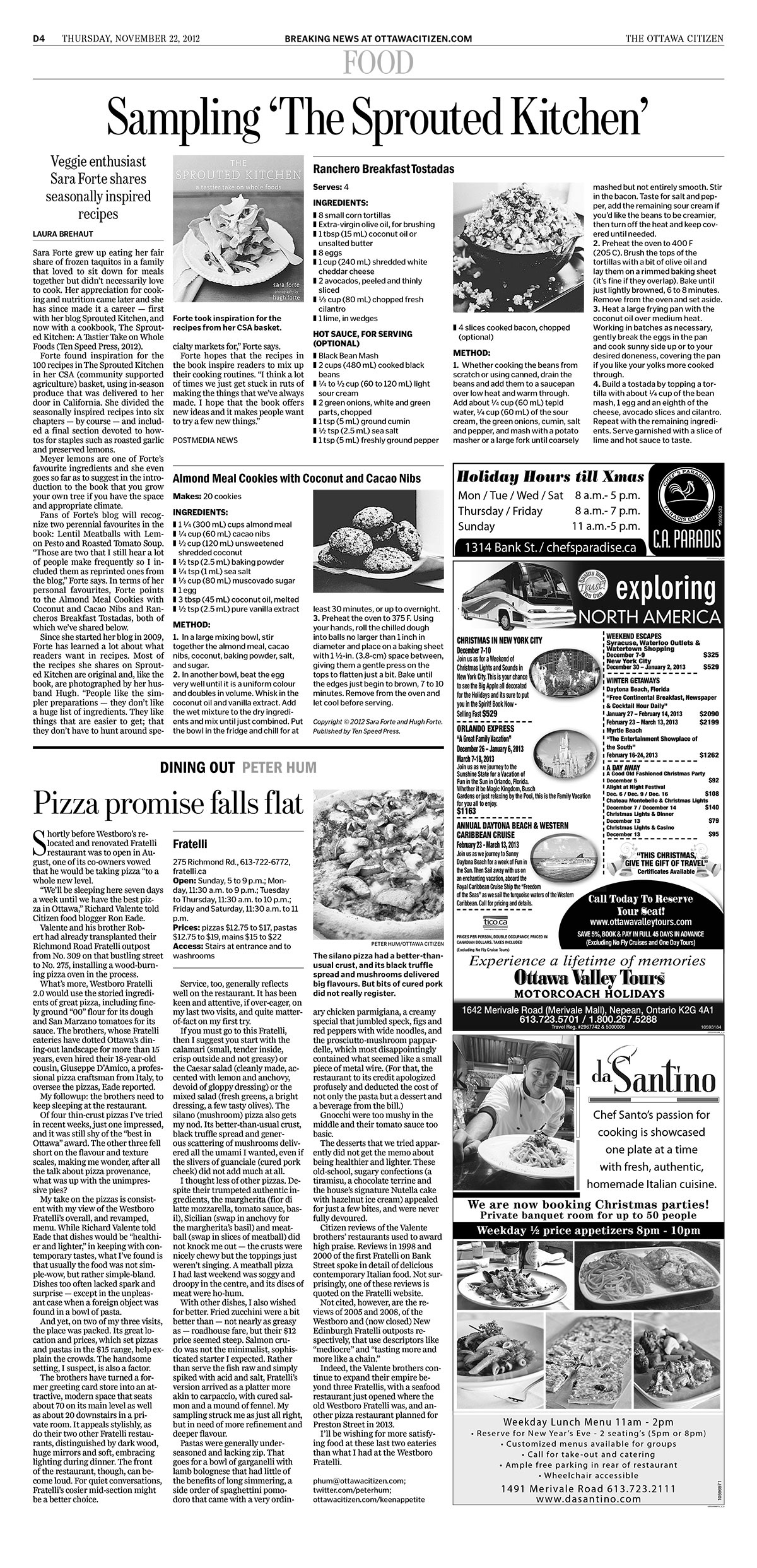 Sara Forte grew up eating her fair share of frozen taquitos in a family that loved to sit down for meals together but didn't necessarily love to cook. Her appreciation for cooking and nutrition came later and she has since made it a career – first with her blog
Sprouted Kitchen
, and now with a cookbook,
The Sprouted Kitchen: A Tastier Take on Whole Foods
 (Ten Speed Press, 2012).
There wasn't a single defining moment when Forte decided that she would pursue a career in food. "I feel like where I am now is kind of a snowball effect from a lot of little things," she says. During college, Forte started cooking for herself and worked at an organic farm on campus, which gave her a new appreciation for vegetables and what's involved in cultivating them. After college, she travelled to Italy where she worked at a Tuscan bed and breakfast/cooking school and gained an appreciation for Italian food culture.
"I think what's really neat about Italy is how unfussy they are about everything," Forte says. "It's just about the food being good and that's what I think deters a lot of people from cooking around here is that they think it has to be really time-consuming. If you would just find a good-quality ingredient and then find one or two ways to make it well… it just doesn't need to be as big of a deal as some people make it."
Forte found inspiration for the 100 recipes in The Sprouted Kitchen in her CSA (community supported agriculture) basket – using in-season produce that is delivered to her door in California. She divided the seasonally inspired recipes into six chapters – by course – and included a final section devoted to how-tos for staples such as roasted garlic and preserved lemons.
Meyer lemons are one of Forte's favourite ingredients and she even goes so far as to suggest in the introduction to the book that you grow your own tree if you have the space and appropriate climate. "I think it's fairly obvious that I really love lemons, especially Meyer lemons," she says, laughing. "I know that we are really lucky with this climate so it's a little bit bold to suggest that but it's so nice to have them on-hand and I use them all the time."
Fans of Forte's blog will recognize two perennial favourites in the book:
Lentil Meatballs with Lemon Pesto
and
Roasted Tomato Soup
. "Those are two that I still hear a lot of people make frequently so I included them as reprinted ones from the blog," Forte says. In terms of her personal favourites, Forte points to the Almond Meal Cookies with Coconut and Cacao Nibs and Rancheros Breakfast Tostadas (recipes included below).
Since she started her blog in May 2009, Forte has learned a lot about what readers are looking for in recipes. Most of the recipes she shares on Sprouted Kitchen are original and, like the book, are photographed by her husband Hugh. "People like the simpler preparations – they don't like a huge list of ingredients. They like things that are easier to get; that they don't have to hunt around specialty markets for," Forte says. "I tried to both be creative in my own way but also see that people were really loving things they could throw together on a weeknight for dinner or a dessert that was maybe a little bit on the healthier side than a super-rich brownie."
"The Sprouted Kitchen" cookbook covers a range of recipes from the basic – such as Spiced Sweet Potato Wedges – to the more complex such as Seared Scallops on Black Quinoa with Pomegranate Gastrique. Forte hopes that the recipes in the book inspire readers to mix up their cooking routines. "I got a Twitter comment from someone who had been an avid vegetarian for years that said the book has made them see vegetables in a whole new light," she says. "I think a lot of times we just get stuck in ruts of making the things that we've always made. I hope that the book offers new ideas and it makes people want to try a few new things."
Recipes excerpted from 
The Sprouted Kitchen
. Copyright © 2012 Sara Forte and Hugh Forte. Published by Ten Speed Press. Reproduced by arrangement with the Publisher. All rights reserved.
ALMOND MEAL COOKIES WITH COCONUT AND CACAO NIBS
Makes 20 cookies
1 1/4 cups almond meal
1/4 cup cacao nibs
1/2 cup unsweetened shredded coconut
1/2 tsp baking powder
1/4 tsp sea salt
1/3 cup muscovado sugar
1 egg
3 tbsp coconut oil, melted
1/2 tsp pure vanilla extract
1. In a large mixing bowl, stir together the almond meal, cacao nibs, coconut, baking powder, salt, and sugar.
2. In another bowl, beat the egg very well until it is a uniform colour and doubles in volume. Whisk in the coconut oil and vanilla extract. Add the wet mixture to the dry ingredients and mix until just combined. Put the bowl in the fridge and chill for at least 30 minutes, or up to overnight.
3. Preheat the oven to 375°F. Using your hands, roll the chilled dough into balls no larger than 1 inch in diameter and place on a baking sheet with 1 ½-inch space between, giving them a gently press on the tops to flatten just a bit. Bake until the edges just begin to brown, 7 to 10 minutes. Remove from the oven and let cool before serving.
RANCHERO BREAKFAST TOSTADAS
Serves 4
8 small corn tortillas
Extra-virgin olive oil, for brushing
1 tbsp coconut oil or unsalted butter
8 eggs
1 cup shredded white Cheddar cheese
2 avocados, peeled and thinly sliced
1/3 cup chopped fresh cilantro
1 lime, in wedges
Hot sauce, for serving (optional)
Black Bean Mash
2 cups cooked black beans
1/4 to 1/2 cup light sour cream
2 green onions, white and green parts, chopped
1 tsp ground cumin
1/2 tsp sea salt
1 tsp freshly ground pepper
4 slices cooked bacon, chopped (optional)
1. Whether cooking the beans from scratch or using canned, drain the beans and add them to a saucepan over low heat and warm through. Add about 1/4 cup tepid water, 1/4 cup of the sour cream, the green onions, cumin, salt, and pepper and mash with a potato masher or a large fork until coarsely mashed but not entirely smooth. Stir in the bacon. Taste for salt and pepper, add the remaining sour cream if you'd like the beans to be creamier, then turn off the heat and keep covered until needed.
2. Preheat the oven to 400°F. Brush the tops of the tortillas with a bit of olive oil and lay them on a rimmed baking sheet (it's fine if they overlap). Bake until just lightly browned, 6 to 8 minutes. Remove from the oven and set aside.
3. Heat a large frying pan with the coconut oil over medium heat. Working in batches as necessary, gently break the eggs in the pan and cook sunny-side up or to your desired doneness, covering the pan if you like your yolks more cooked through. Build a tostada by topping a tortilla with about 1/4 cup of the bean mash, 1 egg and an eighth of the cheese, avocado slices, and cilantro. Repeat with the remaining ingredients. Serve garnished with a slice of lime and hot sauce to taste.